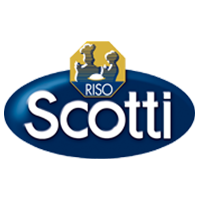 Riso Scotti Products
Who We Are
At Riso Scotti, rice is a way of being, an art that has been passionately handed down for six generations. In over a century and a half, our family company has grown and evolved from an artisan mill into an industrial rice-processing company and it now represents a set of long-standing values that are here to stay: quality, tradition, innovation, passion, always centered around consumers' needs.
An ultra-secular history that takes place in Pavia, happily wedged between the Po and the Ticino rivers. A "land of water". A land of rice fields. Italian rice of the highest quality.
Tradition. Innovation. Sustainability
Riso Scotti continues to process its rice with the traditional "mola", which de-husks the rice delicately, producing lustrous and bright grains without damaging them, all while maintaining their nutritional properties. The process is natural, as it was 160 years ago and Riso Scotti is proud to maintain the tradition of its ancient mill.