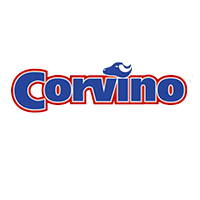 ---
Corvino is located in the province of Caserta in the Campania region of Italy, with pastures settled along the Volturno river. Corvino produces a one of kind and 100% natural Buffalo Milk Mozzarella. Both chef's and distributors rave at the quality of this product with an old-world flavor profile like the day it was produced.

100% Buffalo Milk Mozzarella
Packed 12/200 gr, Gross Weight 5.25 lbs
IQF Frozen and imported from Italy
Product Specifications
Pure 100% Bufala Milk
Butterfat- 52-54% minimum
Humidity 57% minimum
Recommended Thawing Procedure
From frozen state place sealed package or packages in warm water until soft (thawed) but still firm. (approx. 35-45 min depending on temperature and number of packages.) It is not recommended that this product be slacked out in the cooler.
Slice and serve.
For storage purposes place in cooler, shelf life after thaw 4-5 days.